Just two weeks after a devastating tremor in which more than 68,000 lives were perished, a pair of powerful aftershocks on Tuesday collapsed hundreds of thousands of more homes in Sichuan and Shaanxi provinces, adding to the suffering of millions of local residents.
As the frequency of follow-up earthquakes does not bode well, a rising number of rural and urban households in Sichuan, its northern Shaanxi and eastern Chongqing municipality, have chosen to sleep outdoors in makeshift tents.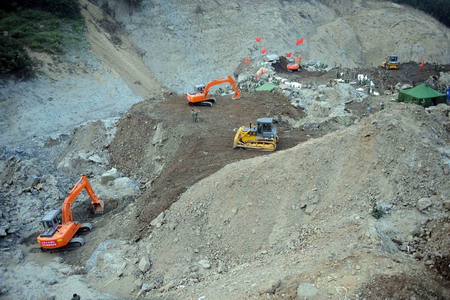 Many of the more than 400,000 homes that collapsed in Qingchuan County, Sichuan, and Ningqiang County, Shaanxi, on Tuesday, were somewhat already damaged by the initial May 12 magnitude 8.0 killer earthquake. Several dozens are reportedly hurt. The two quakes, on a magnitude of 5-plus and only half an hour apart, were a reminder that the crisis in the region and anxieties of the residents are unlikely to dissipate any time soon.
Flood fears force huge evacuation
More than 150,000 people who face the threat of flooding, should an earthquake-created dam near Beichuan burst its banks, were evacuated last night even as engineers were digging a diversion channel to prevent flooding.
Local authorities said they evacuated 158,000 people by midnight Tuesday in case Tangjiashan lake - formed when landslides blocked Jianjiang River after the May 12 quake - overflows its banks.
According to contingency plans, up to 1.3 million people from 33 townships of Mianyang city could be relocated if the lake barrier collapsed entirely.
Premier Wen Jiabao told a meeting of the State Council quake relief headquarters Tuesday that handling the quake lakes is the "most pressing" task at present.
The water level in the Tangjiashan lake has kept rising and the water diversion channel won't be effective till June 5, experts said Tuesday.
Tangjiashan lake was holding 130 million cu m of water - or the volume of water in about 50,000 Olympic-size swimming pools - said Liu Ning, chief engineer of the Ministry of Water Resources who was at the site to oversee the diversion work.
More than 600 engineers and soldiers were working nonstop at the lake site to dig the channel.
Cai Qihua, of the Yangtze River Water Resources Commission, said 26 excavators and bulldozers were being used around the clock.
The water is rising by nearly 2 m a day and reached only 23 m below the lowest part of the barrier Tuesday, she said.
Many towns and villages downstream held evacuation drills Tuesday.
In Tianlin village, among the first to be flooded if the lake bursts, gongs and loudspeakers directed 680 villagers to rush to surrounding hills within 20 minutes.
"The flood will sweep our village in 5 or 6 hours if the dam collapses," the village head said.
Jianjiang River runs into Fujiang River about 10 km north of the village.
Compounding flood fears, two fresh aftershocks struck quake-hit areas Tuesday.
A 5.7-magnitude aftershock struck Ningqiang county of Shaanxi province Tuesday at 4:37 pm. It was also felt in the provincial capital of Xi'an.
Earlier, at 4:03 pm, a 5.4-magnitude aftershock hit Qingchuan county in Sichuan, which is very close to Ningqiang,
The two aftershocks were also felt in the Sichuan provincial capital Chengdu and parts of Chongqing and Gansu.
More than 60 people were injured and 420,000 houses in Qingchuan collapsed in the aftershocks.
Qingchuan was the epicenter of a 6.4-magnitude aftershock on Sunday afternoon, which was the strongest aftershock since May 12.
The death toll from the quake reached 67,183 by midday Tuesday, with 361,822 injured and 20,790 missing, according to the Information Office of the State Council.
More than 45.61 million people were affected in the deadly quake, and about 15 million have been displaced, according to the office.
By noon Tuesday, donations in cash and relief materials from home and abroad reached 32.7 billion yuan ($4.7 billion). So far, 9.4 billion yuan ($1.35 billion) has been forwarded to the quake-affected areas, the office said.
Meanwhile, 566,400 tents had been sent to quake-affected areas by noon Tuesday, according to the Ministry of Civil Affairs.
credited to chinadaily.com