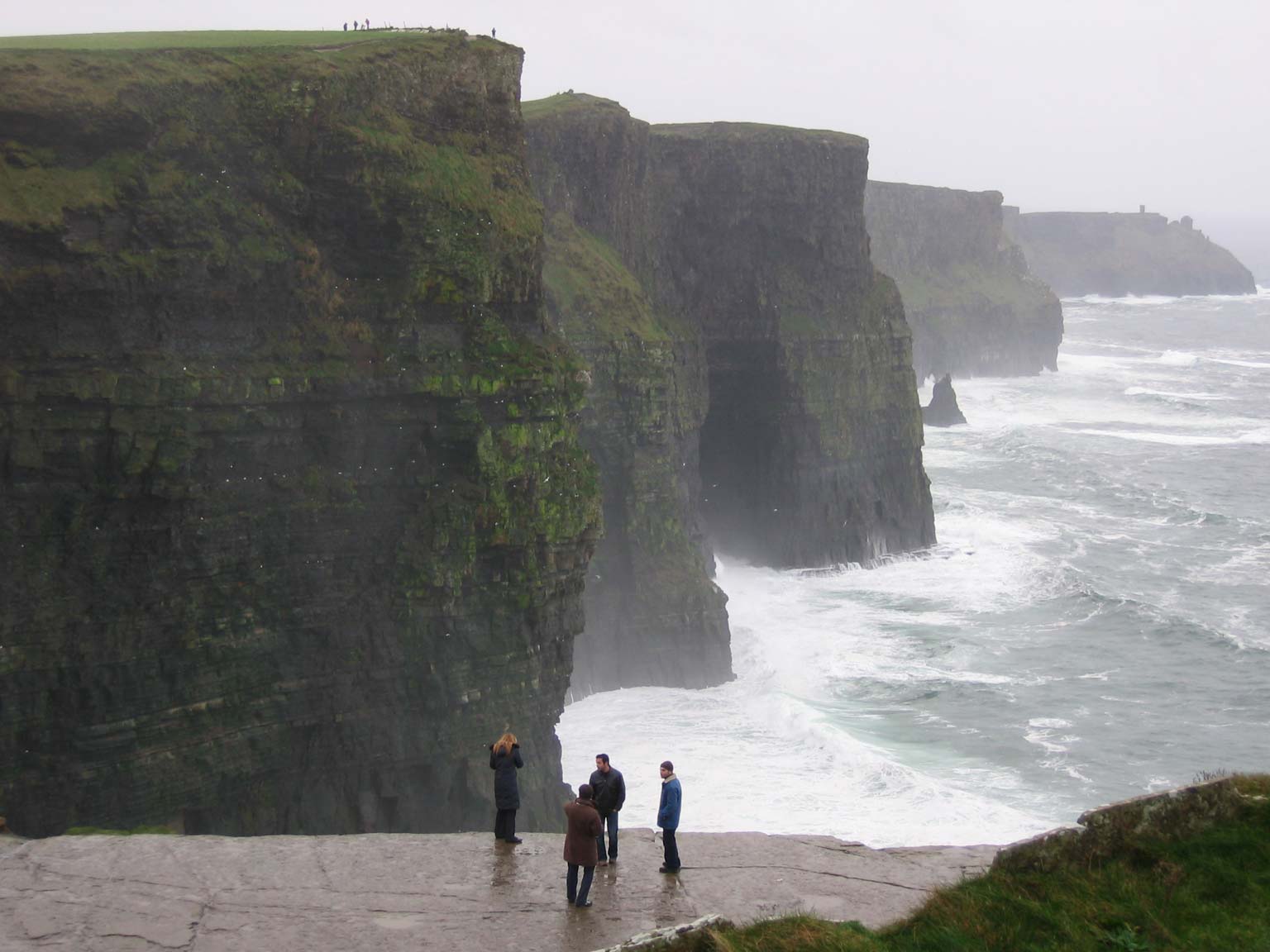 The Cliffs of Moher (Irish: Aillte an Mhothair, lit. cliffs of the ruin, also known as the Cliffs of Mohair from the Irish: Mhothair) are located in the parish of Liscannor at the south-western edge of The Burren area near Doolin, which is located in County Clare, Republic of Ireland.
The cliffs rise 120 meters (394 ft) above the Atlantic Ocean at Hag's Head, and reach their maximum height of 214 meters (702 ft) just north of O'Brien's Tower, eight kilometres away. The cliffs boast one of Ireland's most spectacular views. On a clear day the Aran Islands are visible in Galway Bay, as are the valleys and hills of Connemara.
O'Brien's Tower is a round stone tower at the approximate midpoint of the cliffs. It was built by Sir Cornellius O'Brien, a descendant of Ireland's High King Brian Boru, in 1835, as an observation tower for the hundreds of tourists that frequented the cliffs even at that date. From atop that watchtower, one can view the Aran Islands and Galway Bay, the Maum Turk Mountains and the Twelve Pins to the north in Connemara, and Loop Head to the south.
The cliffs consist mainly of beds of Namurian shale and sandstone, with the oldest rocks being found at the bottom of the cliffs. One can see 300 million year old river channels cutting through the base of the cliffs.
There are many animals living on the cliffs, most of them birds: 30,000 birds of 29 species. The most interesting are the famous Atlantic Puffins, which live in large colonies at isolated parts of the cliffs and on the small Goat Island. Also present are hawks, gulls, guillemots, shags, ravens and choughs.